Today's New Cars and Trucks Are Really, Really Dangerous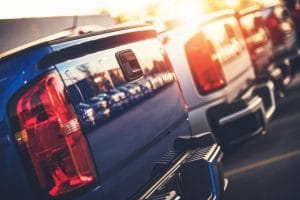 A recent article in Slate talked about the supersizing of today's passenger cars and trucks, with an array of mind-boggling studies on how these large vehicles are dangerous to just about everyone – pedestrians, cyclists, and other cars.
The Slate piece discusses how the increasing weight and height of pickup trucks especially is creating a host of dangers like bigger blind spots and more severe road accidents. Today we will take a closer look at exactly how passenger cars and trucks are getting bigger and, as a result, more dangerous.
Vehicles are getting heavier
Today's passenger vehicles can weigh over 4,000 pounds, and full-sized pickup trucks can weigh up to 5,000 pounds, which is 24 percent more than they did two decades ago. Further, CNN reports the electric Hummer EV weights over 9,000 pounds – three times heavier than a Honda Civic due to its batteries. A collision between a Civic and a Hummer EV would likely result in catastrophic or fatal injury to the passengers in the Civic due to this weight inequity.
Vehicles are getting taller
As cars and trucks get bigger and heavier, they are also getting taller. Per Slate, "A grille that's more than 50 inches off the ground…makes it more likely that a pedestrian will be struck in the head by a collision." The higher the grille, the more difficult for the driver to see in front of the vehicle. When a driver is unable to see objects in front of the car, truck, or SUV, he or she is at risk of "frontover" accidents.
In a supervised experiment for WTHR News, Lindsey Berry sat behind the wheel of her Cadillac Escalade while children sat in a single-file line in front of the vehicle. Thirteen children were able to line up before Berry was able to spot one in front of her car. She told WTHR:
I'm in shock and I think this is very alarming. I like having that vision being up high, but at no point did I realize it was 15 feet in front of me that was blocked. I'm still trying to wrap my head around the fact there's 13 children lined up in front of me right now. It's a mother's worst nightmare.
The news organization's tests showed that most SUVs, minivans, and pickup trucks have a front blind spot zone between five and 10 feet wide – showing the need for safety technology like front-view cameras. However, drivers cannot rely solely on cameras to detect what may be in their blind spots.
Vehicles are handling worse
Slate also notes that even the best drivers cannot make an unsafe vehicle any safer. Consumer Reports says their own testing reveals that bigger vehicles have a more difficult time avoiding car accidents. Jake Fisher, CR's senior director of auto testing, remarked, "Pickups and other large vehicles routinely do worse in our emergency handling and braking tests."
They also noted that when a car and a light truck collide, the driver of the car is 1.59 times more likely to die than in a crash with two passenger cars.
Vehicles are killing more people
According to a National Highway Traffic Safety Administration (NHTSA) report, 2021 saw the largest six-month increase in traffic fatalities ever recorded. In the first half of 2021, over 20,000 Americans died in car and truck accidents, an 18.4 percent increase over the previous year.
Transportation Secretary Pete Buttigieg said, "This is a crisis. More than 20,000 people died on U.S. roads in the first six months of 2021, leaving countless loved ones behind. We cannot and should not accept these fatalities as simply a part of everyday life in America."
Further, financial inequity also results in disparate rates of car accident fatalities in low-income communities. Reports NBC News, in 2020 the number of Black people killed in traffic accidents rose 23 percent from 2019. A majority of these fatalities were from pedestrian accidents, as explained by Norman Garrick, a civil and environmental engineering professor who specializes in transportation and urban planning:
Black people tend to be overrepresented as walkers in this country. This is not by choice. In many cases, Black folks cannot afford motor vehicles. And people that walk in this country tend to experience a much, much higher rate of traffic fatality. We're talking eight to 10 times more. It's a perfect storm of a lot of horrible forces.
NBC also notes that predominantly Black neighborhoods are also less likely to have crosswalks, traffic signs, and other safety systems in place.
Drivers may believe because they own the latest and greatest vehicle that it is also the safest. However, just because a car or truck is huge, it does not mean it is safe for everyone around it. In fact, some of these trucks may not even see a pedestrian, cyclist, or even a small vehicle before crashing into it.
The experienced Las Vegas car accident attorneys at Claggett & Sykes are here to help if you or a loved one were injured in a crash that was not your fault. We understand how to assign liability to an at-fault driver and work with insurance companies on your behalf so you can take the time to heal from your injuries. Let us work to secure the compensation to which you are entitled. Please call 702-333-7777 if you're in or near Las Vegas, 775-322-2923 if you are in Reno or anywhere in Northern Nevada, or fill out our contact form.