Posted on April 17, 2020 in Firm News
Many businesses have had to temporarily shut down due to the coronavirus pandemic. In fact, about one-quarter of small businesses in the U.S. have already shut down. Another 40% expect to temporarily close within the next several weeks.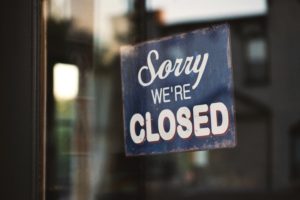 Temporarily closing can financially devastate a business. If your business has been affected by the coronavirus pandemic, it's important to determine if you have business interruption insurance.
Business interruption insurance coverage replaces income that a business has lost as a result of certain events. If your business has suffered, here's what you need to know before filing a business interruption insurance claim:
Physical Loss or Damage Requirement
There's no doubt that the coronavirus pandemic has interrupted businesses across the country. So you would think that business interruption insurance would cover these losses. Most business interruption insurance policies cover lost business income directly caused by physical loss or damage to the property. The insurance industry is heavily fighting whether shutting down due to coronavirus counts as physical loss or damage.
An attorney may be able to argue that "physical loss or damage" can be interpreted to mean anything that makes a property unfit for occupancy. Therefore, any business that has been shut down due to the coronavirus pandemic should be covered under these policies. Or, if there were known cases of coronavirus at a business, an attorney could make the case that this is physical loss or damage since the property could have been, and likely was, contaminated.
Civil Authority Coverage
Most business interruption policies also contain Civil Authority coverage. This is coverage that applies when a civil authority prohibits access to the area immediately surrounding your business in response to a dangerous physical condition in the area. For example, after a natural disaster like a hurricane or wildfire, businesses in those areas get shut down because of the danger in the area, not necessarily because the businesses have been damaged.
Insurance companies have argued that civil authority provisions do not cover businesses that have been forced to shut down under stay-home orders because business were shut down for social-distancing, not in response to a dangerous condition. However, governments across the country have said that shutting down non-essential businesses is necessary to protect against property loss and damage. An argument can be made that civil authority coverage should apply.
Read the Fine Print
Insurance policies are contracts. Take the time to read the fine print on your business interruption insurance coverage—though fair warning, these policies can be pretty confusing and have many nuances to them.
After the SARS virus outbreak in 2003, many insurers added virus exclusions to business interruption insurance policies that specifically excluded coverage for lost income caused by viral or bacterial diseases. This fine print may prevent business owners from recovering compensation for their coronavirus losses. However, not all policies have virus exclusions, and even if they do, the exclusions may not be ironclad.
Claims Are Being Denied Across the Country
There have already been countless reports of denied business interruption insurance claims from around the country. These stories of denied claims are making headlines as outraged business owners demand to know why their policies don't cover this global crisis. Some business owners who have been denied have responded by filing lawsuits against their insurance providers. If these lawsuits are successful, they could open the door for other business owners to successfully obtain compensation under their business interruption insurance policy.
Lawmakers Are Taking Action
Lawmakers in some states, including Ohio, New Jersey, and Massachusetts, are already taking action to protect business owners. For example, in Ohio, lawmakers introduced legislation that would nullify the "viral and bacterial disease" exclusion from business interruption insurance policies. If this law is passed, business owners in that state may be able to recover lost business income under their business interruption insurance policy.
Lawmakers in Congress have also taken notice of this issue, and even the President has chimed in and told insurers they should pay claims that are covered.
There Is Still Hope
It may seem like there's little hope for businesses owners during these times. Having a business interruption claim denied by an insurance company certainly does not help. Indeed, the insurance industry is putting out a lot of literature discouraging business owners from even making claims. But, depending on your insurance policy language, it may be possible to prove that the "physical loss or damage" requirement has been met as a result of the coronavirus. Business owners should not be discouraged from making claims and fighting for their rights if the policy covers their claim.