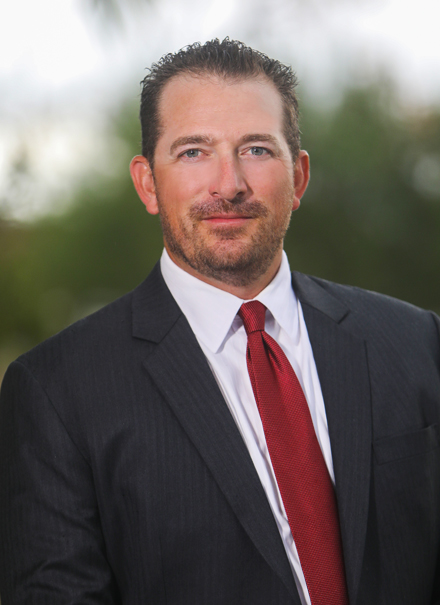 Sean is a proud graduate from the University of Las Vegas. In 2000, he received a Bachelor or Arts in Political Science. Soon after, he graduated cum laude from UNLV's William S. Boyd School of Law in 2003. During his time at the Boyd School of Law, he was a staff editor of the Nevada Law Journal as well as a member of the National Moot Court team. As a law student he won the Society of Advocates oral argument competition.
After graduating from Boyd School of Law, Sean was employed at a high-profile criminal defense law firm. After working for this firm for over two and a half years, Sean made the decision to start his own firm. On January 1, 2005, Sean opened his own law firm with a single client and one employee. Today Claggett & Sykes Law Firm has twenty-eight employees, including 9 attorneys, and has hundreds of active litigation and claims files.
In 2009, Sean was elected by his peers to serve on the board of the Boyd School of Law Alumni Association. Sean has served as both the Vice President and President of this board. In 2010, Sean was named Alumni of the Year for the Boyd School of Law, which is the highest and most prestigious alumni award given by the school.
Sean has also been recognized by Legal Aid of Southern Nevada for his Pro Bono work he has done over the year and also acts as an arbitrator for personal injury cases throughout the Las Vegas area. Additionally, in 2013, Sean became an adjunct professor at UNLV Boyd School of Law, where he currently teaches Law Practice Management.
Sean spent several years as a dean and as a faculty member of one of the most prestigious trial colleges in the country. Sean has been recognized by many attorneys as one of the top trial attorneys in Nevada. It is no wonder that attorneys all over the country have requested him to consult or co-counsel on cases that are proceeding to trial.
In 2016, Sean had the fourth most influential verdict in the United States according to Courtroom View Network. Additionally, in 2017, Sean was recognized as Nevada's Trial Lawyer of the Year. Sean's trial success has continued with two verdicts in 2018 in the amounts of $20,000,000.00 and $3,382,000.00.
In 2010, Sean was named the Alumni of the Year for the Boyd School of Law, which is the highest and most prestigious alumni award given by the school.
Sean's success as a trial lawyer has allowed him to expand his philanthropic passion. Sean and his firm have donated both time and money to charities such as the Challenged Athletes Foundation, HELP of Southern Nevada, Three Square, Child Seekers, March of Dimes, Greg Maddux Foundation, Boy Scouts of America, and Boys and Girls Clubs of Southern Nevada, just to name a few.
In his spare time, Sean enjoys cycling, playing and coaching baseball, traveling, and spending time with his wife and two kids.