Posted on July 13, 2020 in Personal Injury,Premises Liability,Slip and Fall Accidents
Every year, over one million people are injured from slips, trips, and falls in the U.S., according to the Center for Disease Control.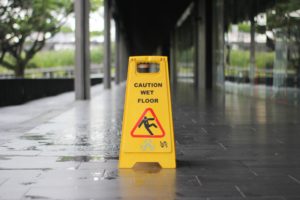 Slip and falls can lead to a wide range of injuries, including sprains, strains, broken bones, spinal cord damage, and head trauma. These injuries can completely disrupt your life, which is why it's so important to seek compensation by filing a personal injury claim.
Many slip and fall victims don't realize that the steps they take immediately following the incident could impact the outcome of their personal injury case. These are the steps to take after a slip and fall.
Seek Medical Attention
Your health should be your first priority after a slip and fall. Do not try to move if you are seriously injured—stay where you are and call 9-1-1 for help. If you are not in need of emergency medical assistance, make sure you visit a doctor as soon as possible after leaving the scene of the fall.
Seeking medical attention right after the incident is important for two reasons. First, the sooner you seek medical attention, the easier it may be for a doctor to treat your injuries. Second, seeking treatment right away ensures that your injuries are documented. Many times in slip and fall cases, the property owner will argue that the injured person cannot prove that the injuries were caused by the fall. Seeing a doctor soon after the incident makes it harder for the property owner to make this argument.
Report the Incident
Every slip and fall should be reported to the party that is in charge of the property. For example, if you are injured in a grocery store, report the accident to the store manager at once.
Sometimes, people are embarrassed that they fell and just want to leave. While this is a natural response, it's important to report the incident to the business or property owner. Most businesses will ask you to file an incident form if you were injured on their property. If this is the case, complete the forms and ask for a copy for your records or take photos of the incident report. If there are no forms to fill out, you should get the names of employees who responded to your fall and notify the manager in writing so the details of the accident are documented.
Gather Evidence
If possible, gather evidence at the scene of the slip and fall. Take photographs of the area where the incident occurred. Most importantly, make sure you take pictures of wet floors, torn carpeting, uneven stairs, or other hazards that could have caused you to fall. If the floor was slippery, take pictures from an angle that clearly shows the wet substance. This is important because in slip and fall lawsuits, the injured person generally has to show what they slipped or tripped.
Take pictures of visible injuries on your body, too. You may also want to snap a picture of the shoes and clothing you were wearing at the time of the incident. This will help you remember what you were wearing if your claim results in a lawsuit. Businesses usually try to blame slip and falls on the type of footwear the injured person was wearing–we call this the "flip flop defense" because many stores blame flip flops for slip and falls. Photographs taken at the time will help you remember what you wearing should this defense be raised.
Look around to see if anyone witnessed the incident. If there were witnesses, ask them for their contact information before leaving the scene. You may need to reach out to them later to find out what they saw.
Contact Claggett & Sykes Law Firm
It's in your best interest to reach out to a slip and fall personal injury attorney as soon as possible after a slip and fall. There are a few reasons for this.
If you wait too long to seek legal representation, it may be harder for your attorney to gather evidence that proves that the property owner did something wrong. One of the first steps an attorney should take is to put the business or property owner on notice to preserve any evidence, like video surveillance. If you wait too long to hire an attorney, the video surveillance may be erased before the attorney has a chance to send notice. The more time that passes, the more likely it is that witnesses may not remember what they saw.
Next, the property-owner's insurance company will likely contact you shortly after the incident. They may pressure you to accept a low offer or give a recorded statement so they can twist your words around and use them against you. An attorney will handle all of the communication with the property owner and insurance company.
The Las Vegas personal injury lawyers at Claggett & Sykes Law Firm know how to handle slip and fall cases. Call (702) 333-7777 today for a free case evaluation.