Truck Collisions from Blind Spots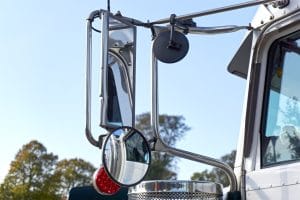 Big rigs, tractor trailers, sixteen wheelers, whatever you call them the one type of vehicle all motorists want to avoid driving alongside on the roadway is a commercial truck. Everything about a large truck that makes it unique also makes it dangerous. While some of us may marvel at the size and weight of commercial trucks, we also don't want to be in a crash or collision with that big rig.
One of the most dangerous aspects of a commercial truck is the size of its blind spots. Many Las Vegas truck accidents are often caused by truck drivers failing to notice motorists in their blind spots.
Why are a truck's blind spots so dangerous?
While every vehicle has blind spots, a commercial truck's blind spots are substantially larger than a passenger car's blind spots. A commercial truck's blind spots, also known as No Zones, extend to the front, behind, and both sides of the truck.
The blind spots for a commercial truck are 20 feet for the front of a truck, 30 feet for the rear of the truck, the lane left to the truck, and the one or two lanes to the right of the truck. If a driver is in any one of these zones, it means that they're no longer visible to the truck driver, increasing the risk of a collision.
How do blind spots cause accidents?
Truck drivers need to take great care on the road to prevent blind spot trucking accidents. Failure to check blind spots can lead to tragic accidents. For example, when a trucker fails to properly align or check their mirrors, they increase the size of their blind spots and make it even more difficult to notice drivers travelling alongside or past them.
Some of the most common blind spot trucking accidents include side-impact and rear-end collisions.  Side-impact collisions can occur when truck drivers fail to properly check their blind spots and attempt to switch lanes while vehicles are present. When this type of accident happens, passenger cars end up taking the majority of the impact. Other motor vehicles are at risk of being sideswiped by the commercial truck, too, either crashing into another motor vehicle, or being taken off of the road altogether.
Blind spot truck accidents can cause spinal cord injuries, traumatic brain injuries, amputations, and other catastrophic injuries.
How can truck drivers avoid blind spot accidents?
Truck drivers should understand how to reduce the risk of blind spot trucking accidents. Some actions they can take include properly maintaining the mirrors of their trucks, actively checking blind spots, and remaining aware of the presence of all vehicles around them.
When motor vehicle drivers are attempting to pass a commercial truck, the driver should look for their own reflection in the truck's side mirror. If you can't see your own vehicle in their side mirror, it's virtually guaranteed that the truck driver won't see you in their blind spot.
Can a truck driver be held liable for blind spot accidents?
Regardless of the actions of another driver, it's the responsibility of the truck driver to remain alert for any sudden and upcoming changes in traffic. It is common knowledge that all commercial trucks contain significant blind spots, and it's the responsibility of a trucker to check their blind spots before switching lanes or turning.
In addition to properly maintaining their mirrors, truck drivers may have additional tools like accident avoidance technology to prevent blind spot crashes as much as possible. However, it's the responsibility of the truck driver to pay attention to changes on the road and traffic conditions. Truck drivers are not the only parties who can be held liable for blind spot trucking accidents. Trucking companies can also be held liable for these accidents if the at-fault driver is their employee.
The Las Vegas truck accident lawyers at Claggett & Sykes have extensive experience handling injury cases involving large trucks. If a settlement doesn't resolve your claim, we have the resources to take the case to court. Give us a call today at 702-333-7777 or complete the contact form to schedule your free consultation. We also offer appointments in our Reno office.