What You Should Know About Social Security Disability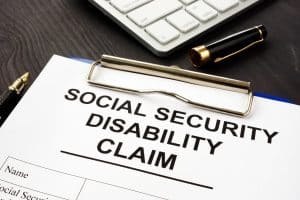 The Social Security Disability Insurance (SSDI) program is a federal program that helps workers who cannot work due to a physical or mental disability obtain financial benefits and health insurance coverage. Family members may also be eligible for benefits. The initial application process is difficult, and many people are not approved for SSDI on their first request. However, many applicants, with the help of experienced lawyers, are approved after they request a hearing.
At Claggett & Sykes Law Firm, our SSDI lawyers in Las Vegas and Reno work with your doctors and our network of expert physicians throughout Nevada to help show that your medical condition meets the Social Security Administration's definition of disability. In emergency cases, we seek an expedited review of your claim. We also help you show that you have enough work credits to qualify for SSDI benefits.
What are the eligibility requirements for SSDI?
The Social Security Administration (SSA) requires that applicants show they have a disability that prevents them from working for one year or more. There are several criteria for showing that you meet the SSA definition of a disability.
SSA will review your substantial gainful activity for the prior year. For 2023, if you earn more than $1,470 a month, you generally cannot qualify for SSDI.
Your medical condition must limit your ability to do basic work-related activities, "such as lifting, standing, walking, sitting, or remembering – for at least 12 months."
The SSA will review whether your disability is on the SSA list of impairments (which we discuss below).
SSA reviews whether your work prevents you from doing the work you did before the onset of your disability.
SSA also reviews whether there is other work that you might be able to do.
If approved, the benefits continue until you can return to work – if you can return to work.
Applicants also need to show they have enough work credits. Generally, you need 40 credits (quarter-years) of work history. Twenty of those credits must be in the last 10 years. To qualify for a credit, as of 2023, you need to earn at least $1,640 for a quarter to earn one credit.
The SSA also reviews applications on behalf of applicants who are blind or have low vision, the widow or widower of a worker, children who have disabilities, and wounded warriors and veterans.
What benefits can I receive through SSDI?
The maximum amount of monthly SSDI payments for 2023 is $1,483. Two years after your application is approved, you can also apply for a Medicare card to cover your medical bills.
What is the list of disabilities and impairments?
The Social Security Administration has a list of disability impairments for children and adults. Within each category, there are numerous specific impairments that each have specific criteria you need to meet to show your medical condition qualifies as that specific impairment.
For example, the SSA's review of respiratory disorders includes "chronic obstructive pulmonary disease (chronic bronchitis and emphysema), pulmonary fibrosis and pneumoconiosis, asthma, cystic fibrosis, and bronchiectasis." Other respiratory impairments that may be defined in other categories include respiratory failure, chronic pulmonary hypertension, lung transplantation, cancers affecting the respiratory system, and the pulmonary effects of neuromuscular and autoimmune disorders.
How do I prove my medical condition is on the SSDI impairment list?
Our SSDI lawyers review with your doctors and our own doctors, if necessary, what type of impairment you have. The Social Security Administration, for each type of impairment, identifies what type of medical evidence they need to support the conclusion that you have the impairment. This evidence normally includes diagnostic tests, a physical examination, an oral examination, and other verification. We'll work with your doctors to provide the necessary proof.
We will also review the questions that are likely to be asked at your SSDI hearing before an administrative law judge.
Can I still receive SSDI if my medical condition is not on the SSDI impairment list?
If you cannot qualify using the impairment list criteria, SSA will review other factors, using a grid system, to determine your eligibility. These factors include your age, job skills, work history, and education. The grid system also analyzes your residual functional capacity – the most work you can do given your medical conditions. The grid analysis is used for people with physical disabilities, not mental disabilities.
If you don't qualify through the impairment criteria or the grid analysis, SSA will review your medical records, the opinions of your doctors, and your personal testimony. Our lawyers work to show that your medical condition is as close as possible to one of the listed impairments.
Can my SSDI claim be expedited?
SSA helps applicants in immediate need of help through two programs:
Compassionate Allowances. This program can be used for applicants who have a qualifying medical condition – as soon as the diagnosis is confirmed. Examples of qualifying medical conditions include certain cancers such as pancreatic cancer, acute leukemia, Lou Gehrig's disease (ALS), adult brain disorders, and numerous rare disorders that affect children.
Quick Disability Determinations. This is a sophisticated computer program that screens cases with a high probability of allowance.
Our SSDI lawyers understand how scary a disability can be. It's rough enough having to live with the physical pain, the doctor visits, and the changes to your life. When you cannot work due to disability, you depend on Social Security to make a fair and honest assessment of your condition. The attorneys at Claggett & Sykes Law Firm work tirelessly to show you meet the SSDI eligibility criteria. We'll answer all your questions, work with your doctors, and be your advocate in the SSDI claims process. To schedule an appointment, call our Las Vegas or Reno offices or fill out our contact form today.