Wrong-Way Crashes a Serious Problem in Las Vegas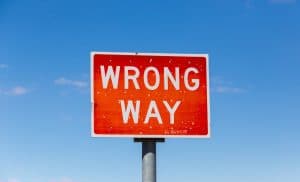 Wrong-way driving has become a serious issue as of late. According to 8 News Now, the Las Vegas valley has seen the highest increase in these types of crashes, and the main cause seems to be driving while impaired.
Recently, there was a wrong-way crash on I-15 and Sloan that resulted in the death of four people, but this is only one example. Data shows that, in 2019, 90% of these crashes were caused by impairment. While this is a decrease since 2017, where 100% of these crashes were due to driver impairment, it is still cause for concern.
Impairment may be the leading cause, but it is not the only one: unsafe roadways and poor road design also play a role. The Nevada Department of Transportation has made efforts to decrease these types of accidents in the capacity that they can. They have been conducting studies over the years, and now have sufficient data to implement some changes. The newest initiative consists of a notification system where drivers who are going the wrong way are alerted.
The results of the initiative are promising: 89% of wrong-way drivers turned around when they saw the alert system. However, the study cohort was small – only 37 ramps across Nevada – so there are concerns whether this initiative will garner results statewide. We'll soon find out as these notification systems are set to be installed throughout the state this year.
What are the causes of wrong-way accidents?
It is important for all drivers to do their part in avoiding wrong-way accidents. Many of these accidents are caused by negligent and reckless behavior. There are instances where there were inadequate warnings, but most of the time, as studies suggest, it is the fault of the wrong-way driver. The most common causes of wrong-way crashes are:
Being under the influence of drugs, alcohol, or both
Distracted driving, including texting and driving
Speeding
Drowsy driving Inadequate lighting on the roadway
Confusing traffic signs
Inadequate traffic signs
The way that a road is designed can also play a role in wrong-way accidents. It is important to stay alert at all times and take as many safety precautions as you can. Most wrong-way crashes occur at night when it is often more difficult to see.
Other factors in wrong-way accidents
Being unfamiliar with roadways can increase the chances of a collision. Detours may cause drivers to get all turned around, figuratively and literally, which may lead to a crash. Drivers traveling on unfamiliar roads may not see the signs posted with the direction they should be going in.
The elderly also experience unique challenges that other drivers do not. They have slower reaction times and can suffer from medical issues which cause them to forget where they are going, or be unable to navigate their surroundings.
Injuries from wrong-way car accidents
For victims of wrong-way crashes, the consequences can be catastrophic. Most often victims do not survive these accidents because most wrong-way crashes are head-on collisions, one of the deadliest types of accidents there are. For those who do survive, the injuries can be life-altering. These injuries include:
Neck trauma including cervical fractures
Spinal cord trauma that can lead to paralysis
Head trauma leading to traumatic brain injury
Thoracic trauma
Back injury
Broken facial bones
Disfigurement
Loss of limb
Internal organ damage
If you or a loved one have been injured, or your loved one died in a wrong-way crash, it is important to seek counsel from a Las Vegas car accident attorney with experience in these types of complex accident claims.
Who is liable in a wrong-way crash?
Generally, the person who was driving the wrong way is the one who is liable. However, there may be times where third-parties share liability, too. Those times include:
Collisions with a commercial vehicle. When you are in a truck accident, the trucking company itself may be at least partially liable for your injuries.
Crashes caused by roadway design. In some cases, a government agency may be liable. For example, if there is an especially dangerous turn on a road, the local, state, or federal government in charge of that road should post a warning sign. Failure to do so may leave them open to litigation.
Accidents in work zones. When a road crew is doing construction and changes the on- and off-ramps, or closes certain roads but not others, it must indicate what those traffic changes are. They can be held liable if they fail to warn drivers about these changes.
Multi-vehicle collisions. More cars mean more complex liability issues. If there are multiple cars crashing into one another, then there could be multiple people liable for your injuries.
Wrecks caused by defective parts. If a defective car, truck, or motorcycle part is the cause of a wrong-way crash, the manufacturer and/or retailer may be liable for any injuries you sustain.
Nevada is an at-fault car accident state, which means you must prove fault to collect the compensation you are entitled to receive. Many insurance companies will try to say that their insured driver did not cause the accident, to deny your claim. Working with an attorney is almost always your best shot at a successful claim and can help you prepare if your case must go to trial.
There is a two-year statute of limitations in which you have to file a personal injury lawsuit in Nevada. Without the help of a Las Vegas car accident attorney, it is extremely difficult to file a lawsuit and prove negligence. Contact Claggett & Sykes Law Firm at 702-333-7777, or complete our contact form to schedule a consultation. We have offices in Reno and Las Vegas to better serve our clients.